Diedrich Roasters Scholarship
2019 Scholarship Recipients
Chief Extractor of Coffee
Commune Cafe

Rosario "Ros" Juan is a third-generation entrepreneur who has combined her passion for Philippine coffee and her strategic role in the burgeoning digital space as social media strategist to great effect.

In the former, she's the Chief Extractor of Coffee at Commune, a cafe + bar in the central business district that specializes in all things coffee, serving Philippine coffee, comfort food and cocktails and hosting community events; In the latter, she's a digital strategist and advocate for social good, whose strength lies in social media integration, advising small and medium companies concurrent to spearheading a number of citizen-led digital initiatives such as @TweetupMNL and #rescuePH.

While her heart lies in all things Filipino and local, Ros also possesses a global mindset with her past stint in Shanghai, China, after entering the Shanghai Jiao Tong University to study the Mandarin language as well through her travels abroad to learn more about various coffee cultures and the latest trends in digital.

And despite her seemingly busy schedule, Ros still finds the time on occasion to personally attend to her café customers or to whip up a cuppa or two for their enjoyment.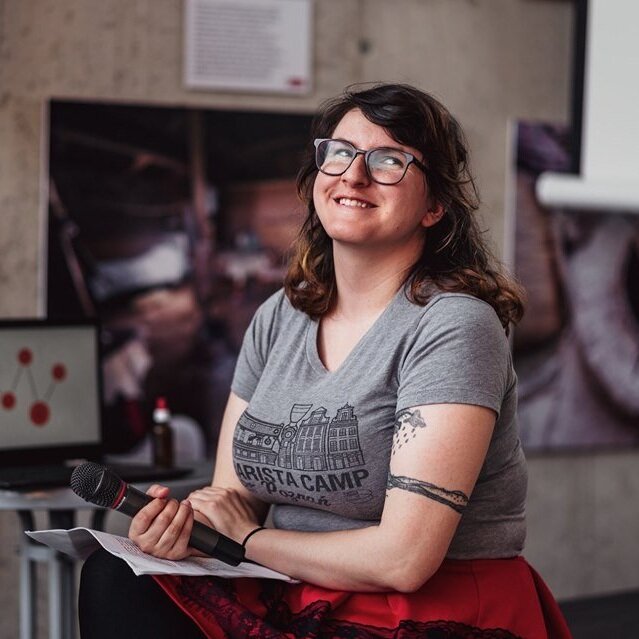 Junior Coffee Roaster
Rusty Nails Coffee Roaster

I am passionate individual now based in Czech Republic. Long time gastronomy geek with five years into specialty coffee and counting. As a barista based in cities around Europe (Urban Bistro – Bratislava, The Barn Coffee Roasters – Berlin) I got to understand the product, different communities and approaches. From the start of my career in the industry, I was aware of my passion for everything in the roastery. I always wanted to be a part of the team, roasting, cupping, packing, customer care. Last year I got an opportunity to be part of the Rusty Nails Coffee Roasters and right now I am furthering my knowledge as a roaster. Always looking for another challenge and improvement. What I want to become as a roaster is not only a strong individual, but part of a community, a role model encouraging people starting in the industry. My focus is mainly on sustainability and circular economy.
We are pleased to be able to offer four individual Diedrich Roasters Scholarships to the upcoming CRG Camp in Annecy, France – Sept 30-Oct 3, 2019 – made possible by Diedrich!
The Scholarship is designed for people who lack the financial resources to attend CRG Camp on their own, but who belong in the environment of fellow coffee roasters and deserve the opportunity for professional development.
The ideal candidate is a roaster with an interest in furthering their knowledge of working with specialty coffee. Someone who wants to expand their experience and widen their network of coffee roasters.
Scholars are offered a full ticket to the event and will have the opportunity to select their workshop preferences from the unique CRG Camp program as well as attending all group activities like the popular Camp Team Challenge and leading keynote speeches.
Diedrich will invite successful applicants to keep an account of their time at the event so the positive experiences held by the Scholars will be available to share with the community.
The scholarship award will cover your ticket to CRG Camp, accommodation on the nights of Sept 30-Oct 3, and your flight to Annecy, France.
Applications are now closed.
2018 Diedrich Roasters Scholarship Recipients
We are pleased to announced the recipients of the Stephan & Becky Diedrich Scholarship: Emiliya Yordanova, Jonny Northcutt, Kenisha Thompson, Caoilainn Power, and Daniel Boobier.
These scholarship recipients are future or current leaders in the roasting community, helping to drive the future of the specialty coffee industry. Click on the photos below to learn more.